Last week was crazy busy (worked over 50 hours) and this week is probably going to be just as busy! Ahh! Because of the impending busy week, I got in some good runs this week. (The next time I get a chance to run probably won't be until Thursday.)
Friday night I went to a middle school musical with my cousin titles "
Back to the 80s.
" It was a high school story line with lots of 80s songs. I was cracking at some of the parts and if was cute. Very appropriate for junior high. I think it was kind of ironic that a bunch of kids that were born in the 2000's were singing about the 80s. "
Get out of my dreams! Get into my car...
"
Saturday morning I got up early to go for a run with my
old marathon training group
. A lot of folks from my pace group were there, and I have to admit it made me miss training and miss running a marathon this year (even though it is still only January)! We ran 8 hilly miles (those training for the
Illinois Marathon
did 10 or 11 miles) and I was quite proud of our steady 10:00 pace, with the hills!
I feel much more accomplished after a hilly workout than a flat one. Does anyone else feel the same way? My hands were FREEZING after our run and just could not get warm.
Anyone have any suggestions for good winter running globes or mittens? I just can't seem to justify paying $36 for the awesome
Saucony mitten/gloves
. I've been using a pair of Under Armor running gloves and I think they are just too thin for the wind and cold of a normal Chicago winter. Although, some post-run Starbucks hot chocolate did help get those hands warm again. :)
Saturday night I went to the city and met up with my cousin for the first annual chili cookoff. I didn't enter but definitely did some of the eating and judging! I thought it was a fun and creative idea.
me and my cousin sampling some chili
Naturally I had to had a bowl of each, just to make sure I was judging them all fairly. Maybe next year I'll put together a pot of my own? I've actually been wanting to make some vegetarian chili this winter and have failed to do so. If anyone has any recipes to share, please let me know!
With all that great protein in my stomach, Sunday morning I got up early again and met my
other running group
for some windy miles. Kate S. and I completed 5 miles with a 9 min (exactly) pace. We had some stops and slow turns since we didn't know our way around, but it was an overall great run. Afterwards, we hit up the gym, specifically the weights section. I'm still getting comfortable with some of the weights and equipment so it was nice to have someone correct my form and give some encouragement. We worked on shoulders and I only did one section with the
colorful girly weights
. Considering I started being only able to lift the 3 lbs free weights for curls, I was pretty excited to be doing should presses with 12.5 lbers. :) After all that working out, we headed to a local breakfast place to meet up with the girls.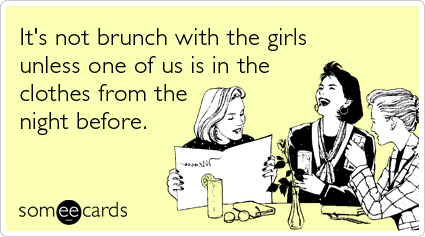 Because we always wear our pajamas to breakfast!
After a fun weekend full of lots of running and activities, I am spent... just in time for Monday! Thankfully I found these gems to help get me through the week. Arguable the 2nd best candy ever (SPK is still always #1).
But the bag is more than half empty and I opened it minutes before dinner last night. Wah wahhh....