My friend Kate and I had planned on going for a run today and our schedules happened to coordinate well with the Frankfort Running Club. I've run with the group only once time before, but I was happy to get out there and meet some new people.
Amanda "Too Tall Fritz"
was at the run today, and she took a nice picture of the group. Unfortunately, she's not in it.
From left to right: Susan, Dave, Diane, Angela, Don, Brian, Kate, Suzanne, me, and Nicole
We ran 6 miles with the group and went out for another mile afterwards for a total of 7.15 miles in 1:05 at an average of 9:05 splits. Because of the wedding on Friday, we slept in on Saturday but my eating schedule was a bit off. I ate a few pieces of toast early in the morning and ate some frozen pizza for lunch around 11. I then was starving for dinner at 5pm (pasta and fake chicken). When 8pm rolled around, I was hungry again and knew I was getting up early to run. We had some leftover stuffing in the fridge so I finished that off before heading to bed. I felt great during the run today but my inner thigh sometimes bothers me. I think tomorrow I'm going to try to stretch it out with the foam roller. It was a really great group to run with. I'm hoping to meet up with these folks more throughout the winter as us crazy runners will run in the snow or sleet.
And I discovered a new item I would like for Christmas. It is only the millionth item on my list...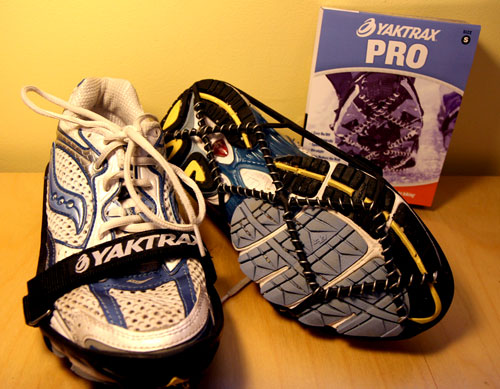 YakTrax